Accordion Shutters – Port St. Lucie, FL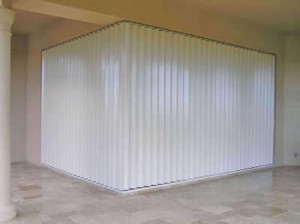 HV Accordion hurricane shutters offer superior protection for windows and doors and can be used to enclose balconies, lanais and patios to protect furnishings and multiple openings. Accordion shutters are permanently affixed to the structure so they provide quick storm preparation. They are easy to operate and can be opened or closed in very little time. Hurricane shutters can be locked from outside or inside, making them an optimal option for second story openings. Accordion shutters are constructed from aluminum and are available in a variety of colors to accent your exterior.
Our Port Saint Lucie Accordion Shutters are permanently installed for year round protection. They fold back compactly similar to a louvered door and are one or two piece shutters. Accordions should be cleaned and lubricated yearly. Accordion shutters are considered one of the strongest shutters available.
The Bertha HV™ Accordion shutter is truly one of the best accordions in the market today. Its blade has been designed to reduce stacking, while enhancing its strength.
Accordion Hurricane Shutter Features & Benefits:
Reduces inventory
Its design improves tolerances
Improved fit and appearance
Curved or radius tracks available for balconies & bay windows.
Rapid response to storm threats – closes quickly to protect your opening in the event of a storm.
Convenience – no more putting up, taking down or storing panels.
No storage space needed – permanent installation of accordion shutters frees up valuable storage space. Puts an end to putting up and taking down storm panels through out the season.
Provides added security with choice of either inside or outside locking mechanisms and can be used as a reliable security device to protect your home throughout the year.
Available in colors of White (WH), Ivory (IV), Beige (BG), and Bronze (MB).
Unobstructed View – in the open position the accordion is equally stacked to both sides which offers a full view.
Energy efficient – In closed or semi-closed position accordion reflects sun's rays and provides shade.
Privacy – In the closed position the accordion shutter restricts ability to see into the opening.
Increases value of your property- Permanent hurricane protection is seen as an upgrade to your property.
Minimal Maintenance- aluminum construction needs only occasional washing as needed and regularly scheduled lubrication of plastic rollers and locking mechanism with a silicon based product.
Florida Code approved
Insurance Companies offer discounts for approved hurricane protection including Accordion Shutters
Heavy Duty Construction, durable powder coated aluminum construction.